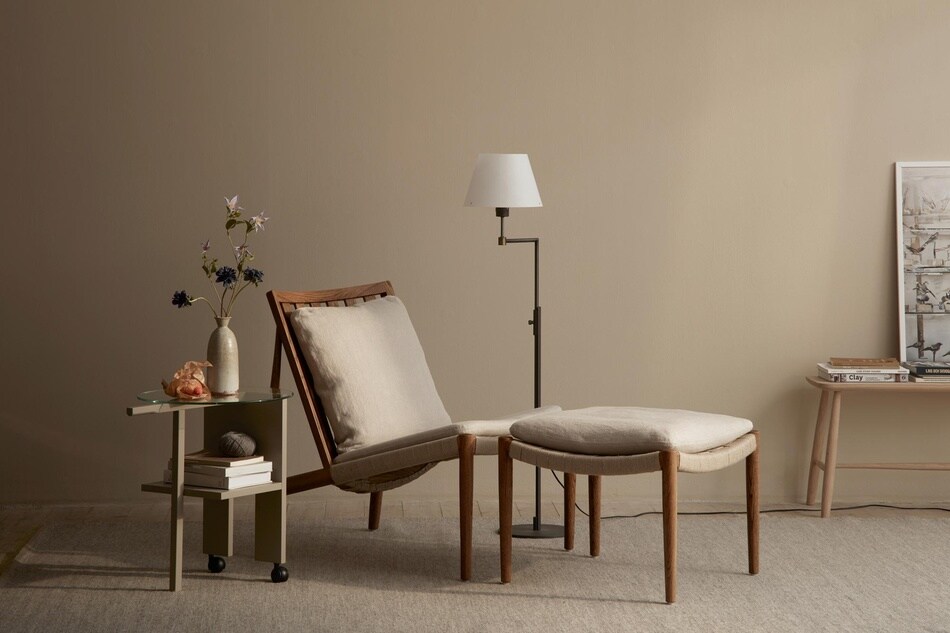 Easy Chair, oak, brown oil, upholstered in "Italian, unbleached linen".
Launched in 2016, the Easy Chair has already become something of a modern classic – one of Norrgavel's best beloved pieces of furniture. A timeless armchair with an ascetic, minimalist look, the craftsmanship behind the chair and the comfort when you sit in it are pure perfection. Work to make the Easy Chair a reality took years of sketches, prototypes and fine tuning. To find his inspiration for the Easy Chair, Norrgavel's founder & designer Nirvan Richter, turned to Japan.
"The working title of the chair I was longing for was Zazen – seated meditation."
"Sitting on the floor in Japanese houses is a very special experience. No chair, more like being outside, with that refined simplicity – Zen. A perfect sitting angle on a beautiful wooden frame, linen webbing that supports a cushion in horsehair and a back cushion stuffed with seabird feathers. Ascetic in look but comfortable in feel. You're not sitting in a chair, you're sitting in the room, as if free in the air. Put two next to each other and they look gorgeous. Lots of Norrgavel's furniture has generic names but what is this? It's more than a chair but Fåtölj, the Swedish word for an upholstered armchair sounded far too stuffed, and indeed stuffy... so we turned to English and called it Easy Chair."
Nirvan Richter, designer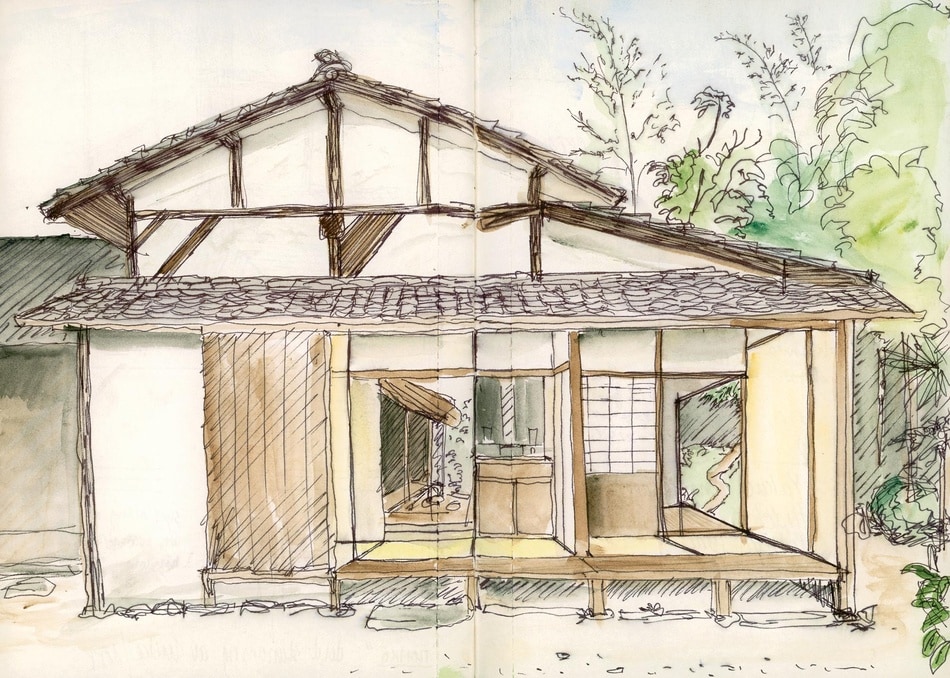 This sketch of a traditional, Japanese house is signed Nirvan Richter. Like this Japanese house, the design of the Easy Chair is deliberately streamlined and visible.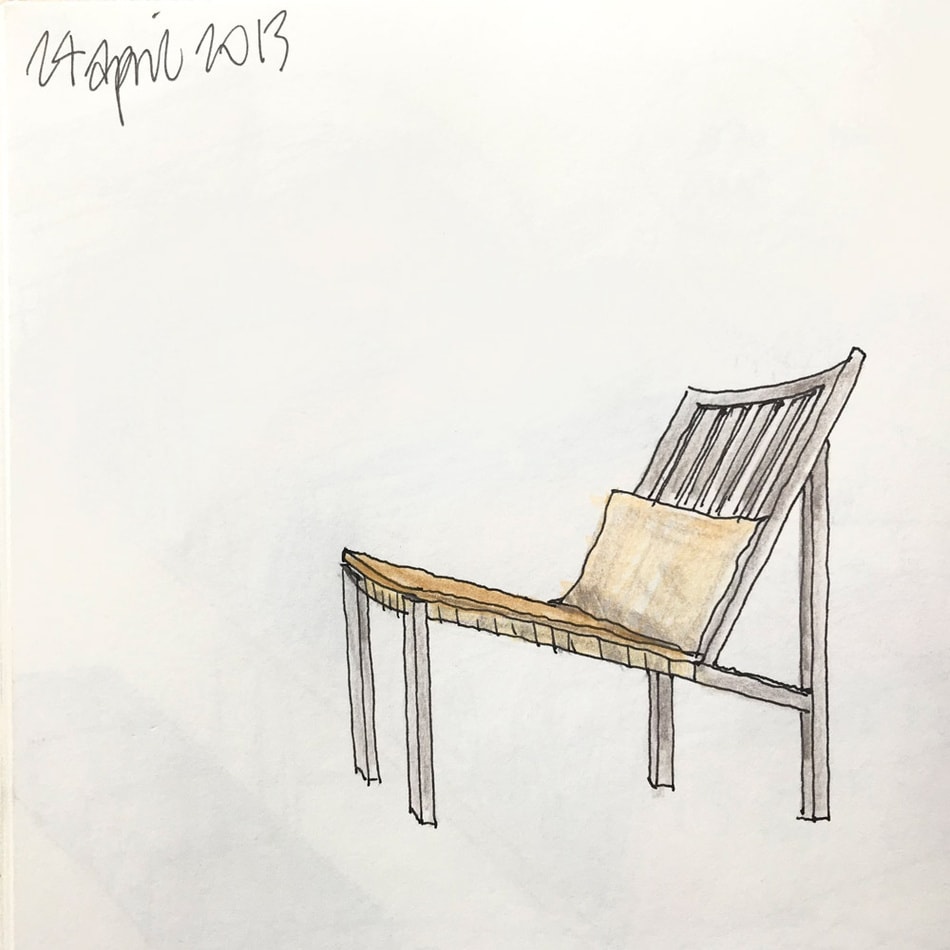 An early sketch or forerunner, dated April 2013, of what came to be the Easy Chair. The picture is taken from one of designer Nirvan Richter's many sketchbooks.
Unlike Western houses, which are often at their most beautiful before the structure is "dressed" with inner and outer cladding. the structure of a Japanese house remains eternally visible. The load-bearing frame is a skeleton on which the entire look of the room rests; between wooden pillars are fusuma (sliding doors in rice paper) and sjoji (room dividers), while the floor is covered in tatami (rice straw mats). You sit or lie on the floor itself, with only a thin padded cushion or mattress under you.
The vision behind the Easy Chair builds on similar ideas. The wooden frame in solid oak is graphically clear – a simple seating angle, supported by two vertical legs at the front, where the frame of the seat continues backwards and meets the rear legs in a stable supporting brace – a minimalist, ever-visible structure, exactly as in the Japanese house.
We usually say that all interior design is about creating a balance between open spaces and cosy, enclosed spaces. The Japanese house lives and breathes open space while Western interior design often tips over into a more enclosed feel. There is a similar dynamic in the sitting itself; you sit on a dining chair or kitchen chair but in an armchair – and an Easy Chair – it's somewhere in between.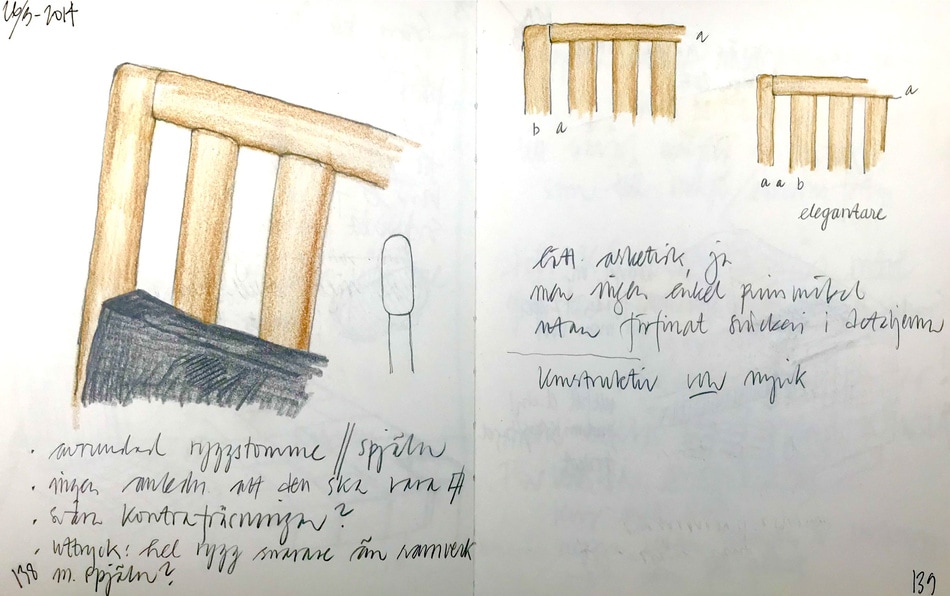 Sketches and notes from designer Nirvan Richter's sketchbook – dated 26/3 2014. The structure of the back with its repeated wooden slats was chiselled out and fine tuned two years before the Easy Chair itself was launched.
A trained eye and aware touch reveal further details in the juxtaposition of materials, angles, combinations. The back is filled with repetitive wooden slats, which, in an identical rhythm, transition into the framework of the seat with its floating webbing; the width of the ribs is matched by the broad webbing, the spaces between it by the narrower webbing. The unbleached linen of the seat contrasts with the oak frame in a way similar to that of tatami mats in the Japanese house, while similarly the comfort is heightened by simple additions in the form of a soft seat cushion and a comfortable, restful back cushion.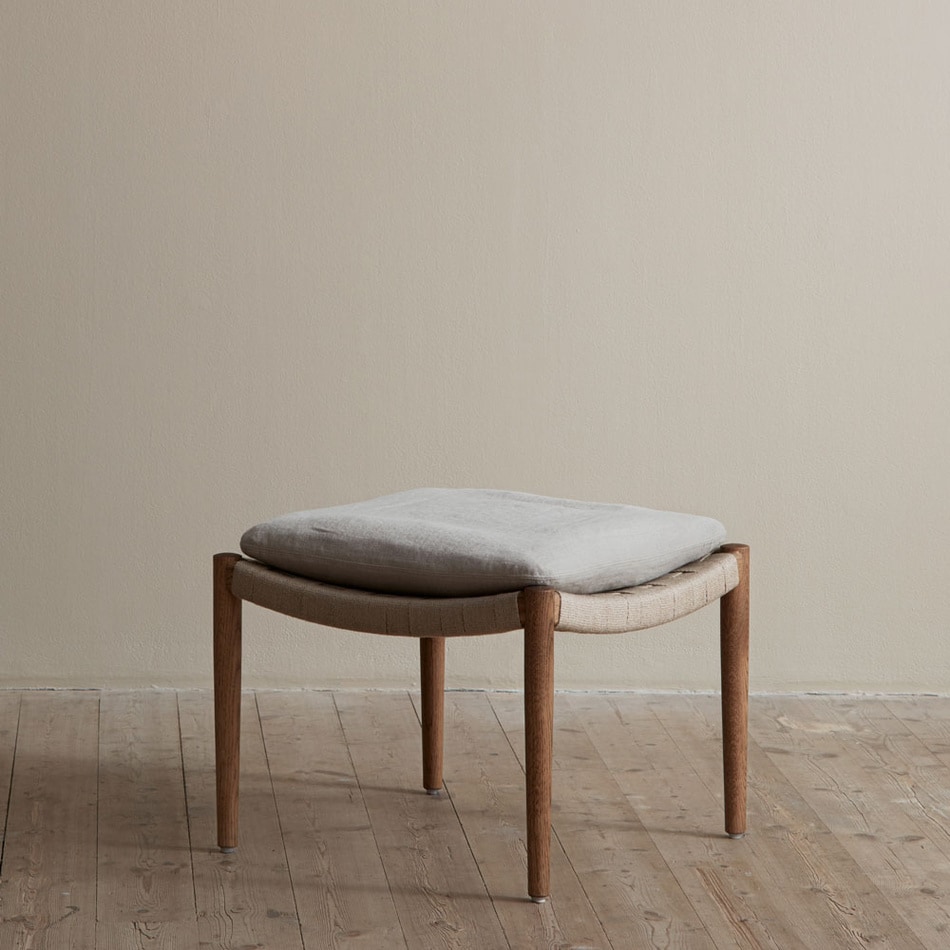 Add an Easy Footstool for moments of superb relaxation.
"Lots of Norrgavel's furniture has generic names but what is this? More than a chair but Fåtölj, the Swedish word for an upholstered armchair sounded far too stuffed, and indeed stuffy... so we turned to English and called it Easy Chair."
"In its classic archaic form, this little decorative item also works independently as a freestanding piece of furniture or with most other furniture."
"Google 'the Thebes Stool' and see where the inspiration for the Easy Footstool came from – when I was a teenager my parents sent me a postcard from the Victoria and Albert Museum in London and I've had it in my mind ever since. A thousand years... talk about timeless! The measurements and the shape come from the Easy Chair, which is after all a chair for 'sitting' in, but it would also be nice to be able to put your tired feet up."
Nirvan Richter, designer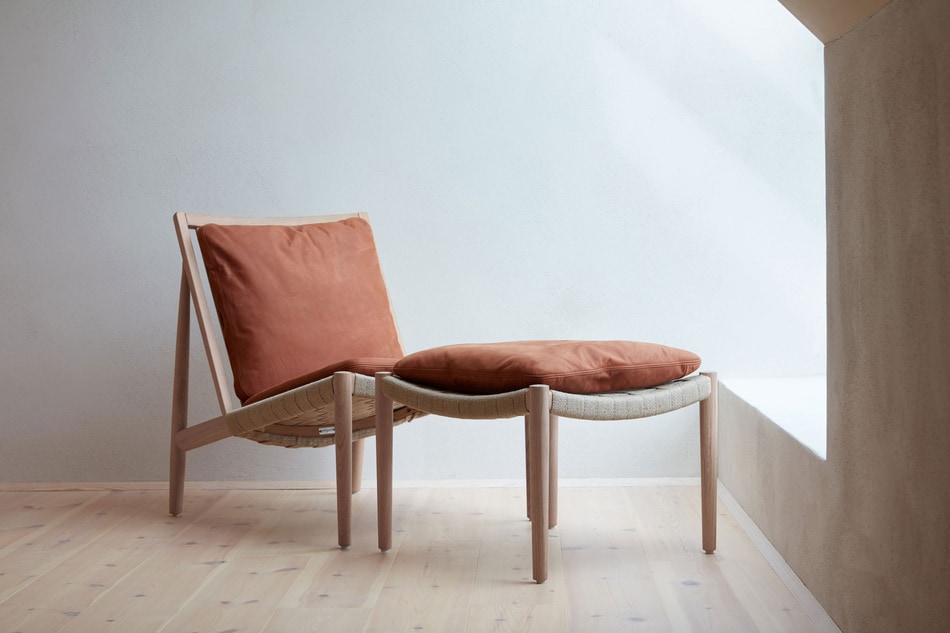 Choose surface treatment and covers to create your own Easy Chair.
Did you know?
» For a long time, the working name of the Easy Chair was 'Zazen' – which means seated meditation.
» Easy Chair is made in pure, comfortable natural materials – solid oak, linen webbing and a cushion filled with seabird feathers. The seat cushion is also built up using latex and horsehair and felted wool, topped with a cover in cotton calico.
» The frame in sold oak is surface treated with oil or tinted oil (white oil, brown oil). Brown oil as a surface treatment gives the wood a deep, charismatic look – an eco-friendly alternative to dark, tropical woods.
» Easy Chair can be ordered with upholstery in vegetable tanned cowhide from the Tärnsjö tannery, chrome-free tanned cowhide from Danish Sørensen or relaxed, exclusive furniture textiles in 100% linen – "Flanders linen" or washable "Italian, unbleached linen.
» There have been requests for an Easy Chair with armrests but designer Nirvan Richter thinks that will have to be a new chair. What makes the Easy Chair stand out is its openness to the space and this would be lost were the seat to be shut in with armrests at the sides.
» There is a matching footstool to go with the Easy Chair – Easy Footstool.
» In 2019 the Easy family gained a new member in the Easy Daybed.
» The Easy Chair is one of the most popular pieces of furniture in the Norrgavel range, always reliably in the top 3.
» All Norrgavel furniture is sketched by hand to this day. The company's founder and designer Nirvan Richter namely sketches out both the furniture designs and what the shops are to look like by hand. He does his sketches in beautiful notebooks which are stored in a safe. The safe contains a thorough history of furniture in the form of almost 40 sketchbooks filled with furniture designs spanning three decades.
» The sketchbooks Nirvan Richter uses are bought from a carefully selected paper shop in Stockholm's Gamla Stan (Studio Barbara Bunke). Handmade sketchbooks with covers clad in Norrgavel's furnishing textiles.