The story behind the Bag Shelf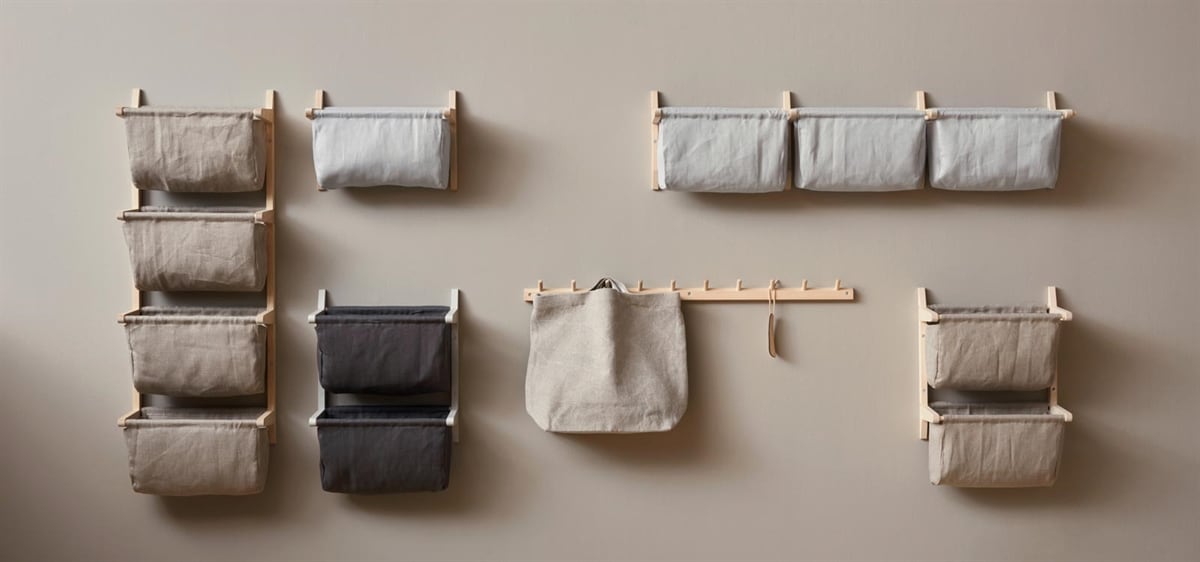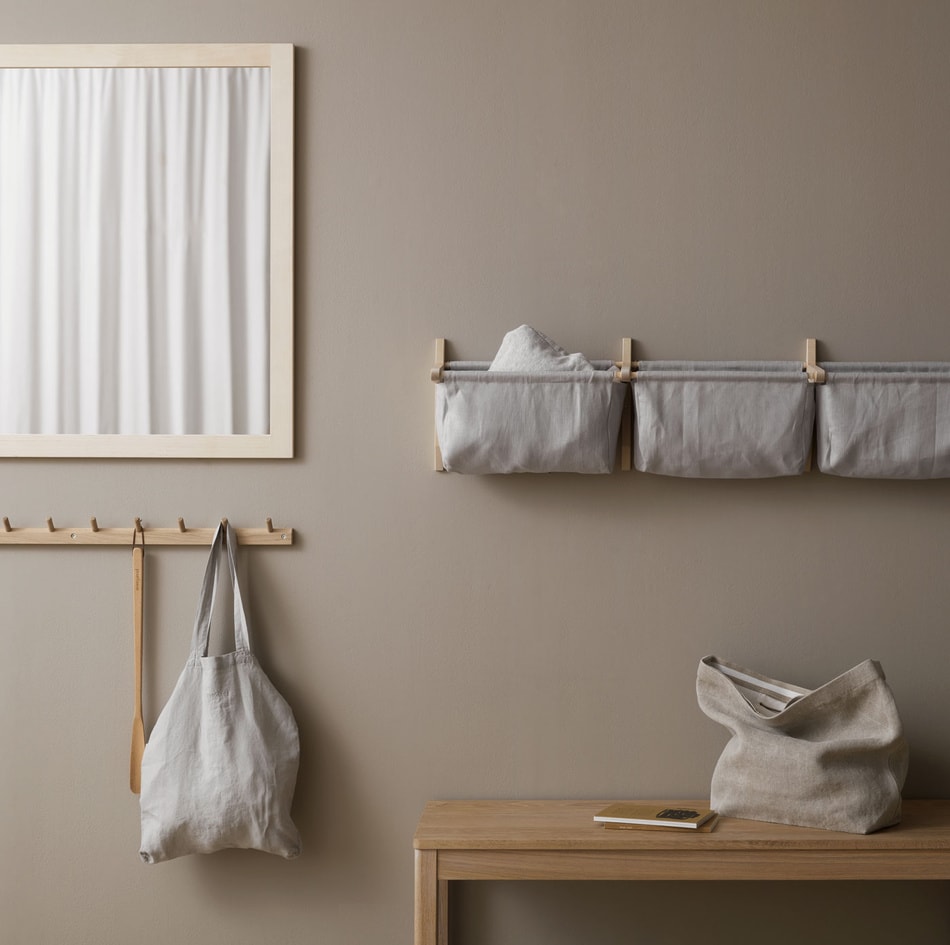 Bag Shelf is the very first piece of furniture that Norrgavel's founder, Nirvan Richter, made that is still in the range today. It was designed in 1986 (Norrgavel started in 1993). At the time, the Richter family were living in one of the fantastic flats designed by architect Sven Wallander for the housing cooperative HSB in Röda bergen in Stockholm in the 1920s. Just inside the door to the flat was a chunk of wall 40 cm wide, which needed to be made maximum use of. At the time, they were a family of four so they needed four bags. Catherine, the children's mother, designed the patterns for the bags, which were sewn in "Bok", a narrow-striped cotton fabric from IKEA. A now iconic piece of Norrgavel furniture was born!
"Organisation is practically built in, as every member of the household can have a bag for their own things."
"I grew up with practical wire baskets inside the front door but I longed for greater refinement and a softer look. That's why I designed the Bag Shelf for my own family long before Norrgavel even existed. It is a very ordinary system in terms of its functionality, but thanks to its slender proportions and superb craftsmanship, the bag shelving adds something completely extra to the space. The fact that it is practical is just as important. It holds a lot, doesn't take up much room, and is easy to fit anywhere. The bags remove easily for washing or for swapping if you fancy a change of colour. Since 2020 it's also been available in a horizontalversion!"
– Nirvan Richter, designer
It wasn't a question of a long product development phase; the function and measurements were a given. "I must have made the frame on the adult education woodworking course I did at KomVux the year before I got into the Carl Malmsten furniture design school. I only produced drawings for it years later when we were going to put it into production," Nirvan explains.
The Bag Shelf was first subtly displayed in 1992 in Athenahuset at the housing fair Bomässan Bo92 in Örebro, after which it started to be sold on a small scale with orders coming in by post. In the following year, the entire Norrgavel concept was shown at Bo93 in Karlskrona, but initially only the Bag Shelf and Coat Rack were available to buy.
By this time, the Richter family had grown, so Nirvan had a special version of the Bag Shelf built with six bags. It happened to be shown in a picture in a magazine and people immediately started getting in touch to ask where they could buy one. But at that time, there were no intentions of expanding the range.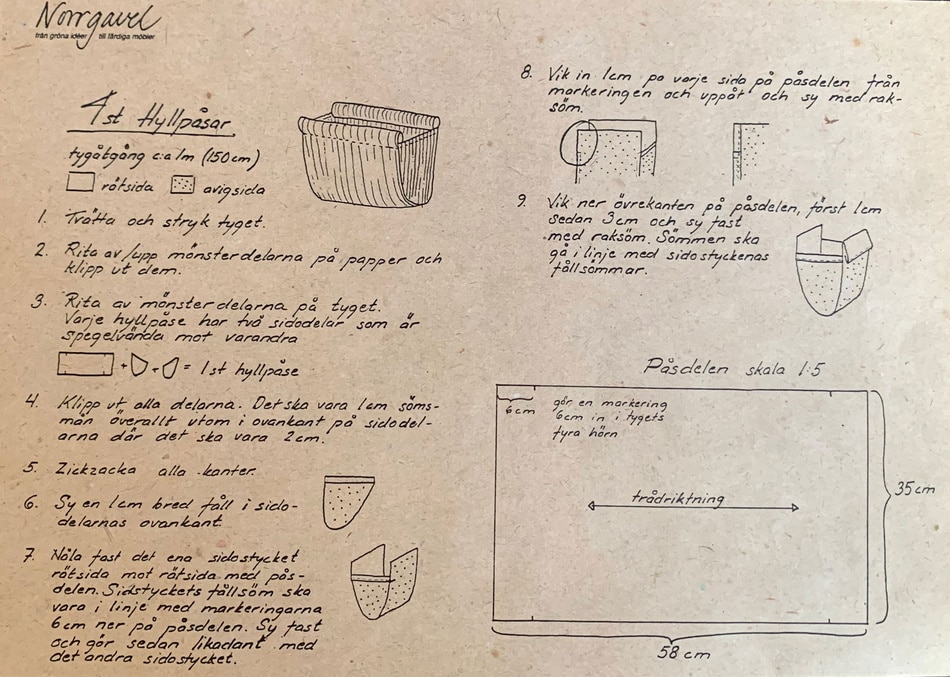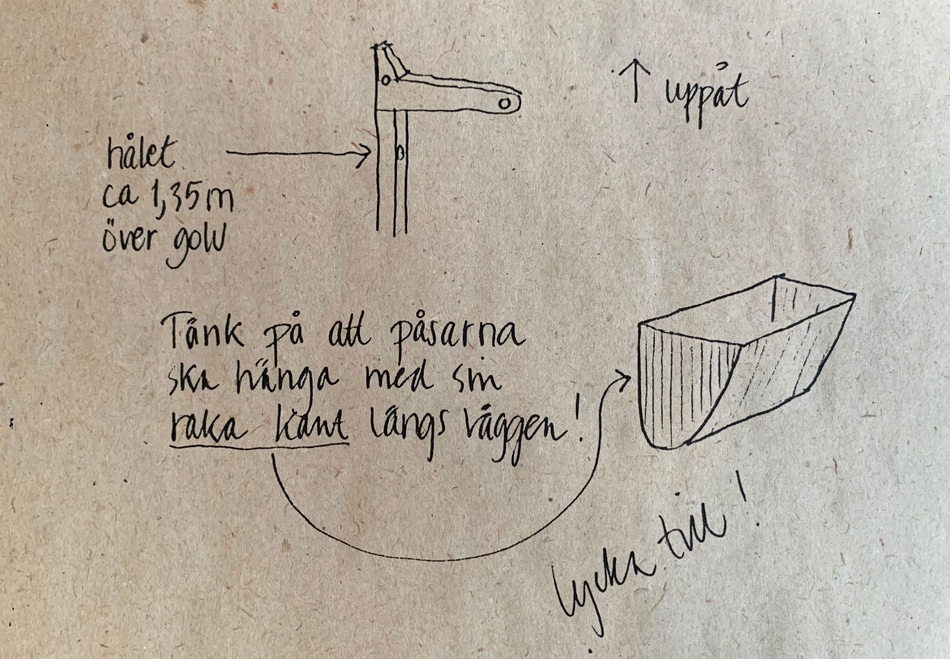 Sketches and notes from designer Nirvan Richter's sketchbook.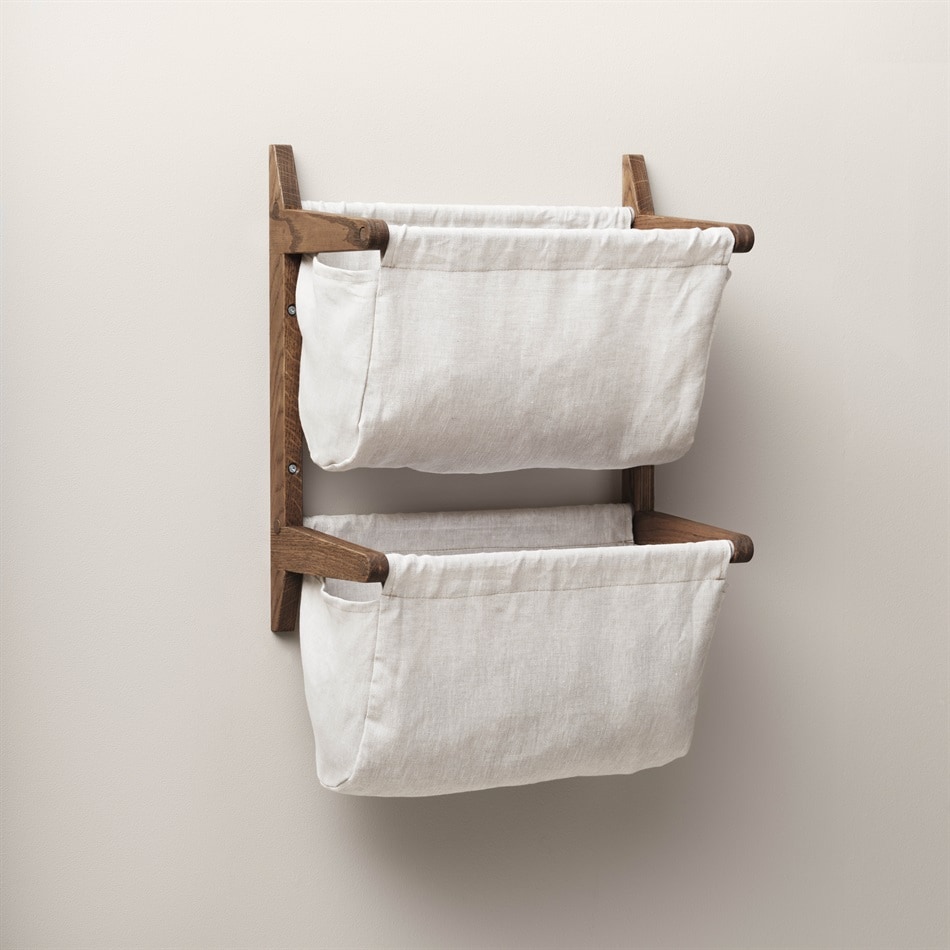 Bag Shelf – now in oak!
People have long been asking for the Bag Shelf in oak, and with some minor design modifications, it works. Oak is more brittle than birch and easily splits, which is why all the brackets have been reinforced with wood running crosswise in a slit.
In September 2021, the Bag Shelf with support in oak was finally launched. The oak Bag Shelf is also available with the surface treatments: oil, white oil or brown oil. Prior to this, the Bag Shelf was only made in birch – untreated or in one of our beautiful tempera or lacquer colours.
Bag shelf from Norrgavel comes in different woods, with bags in several different shades of linen or vegetable tanned reindeer hide. They aren't just for the hall and work well as wall storage in the children's bedroom, your bedroom, the bathroom, hobby room or anywhere you need an easily accessible but hidden place for your things.
Personalise your Bag Shelf by sewing your own bags from your favourite fabric. The measurements have been adjusted slightly since these were made so if you want to sew your own bag, there are updated templates here (in swedish).
Did you know?
– The Bag Shelf was first sold by postal order using coupons in Ica-kuriren magazine.

– The bags are made in 100% linen fabric (in a range of colours), or vegetable tanned reindeer hide. Vegetable tanning is the most eco-friendly tanning method and means that the hides are free from toxins such as chrome, which is otherwise common.

– The wooden support has been made in solid birch from day one – it can be left untreated or painted in one of Norrgavel's beautiful tempera or lacquer colours.

– In 2020 the Påshylla horisontell was added to the range – enabling Bag Shelf storage widthwise.

– In september 2021 the Oak Bag Shelf joined the family – with surface treatments options in oil, white oil or brown oil.

– When Norrgavel celebrated its 20th anniversary, bags were made for the Bag Shelf in the same pattern as the first ones ever made (the "Bok" fabric from IKEA). Striped, with the same appearance as in the picture for the product sheet for Bo 93, but in linen instead of cotton.

– Norrgavel combines traditional furniture joinery with modern techniques and always uses sustainable, eco-friendly, pure natural materials.

– We sell spare parts for the Bag Shelf if you need them

– The Bag Shelf comes in sixth place among Norrgavel's best-selling products.

– Norrgavel has sold almost 30,000 Bag Shelves since the start (2021)!