Contents that stand up to scrutiny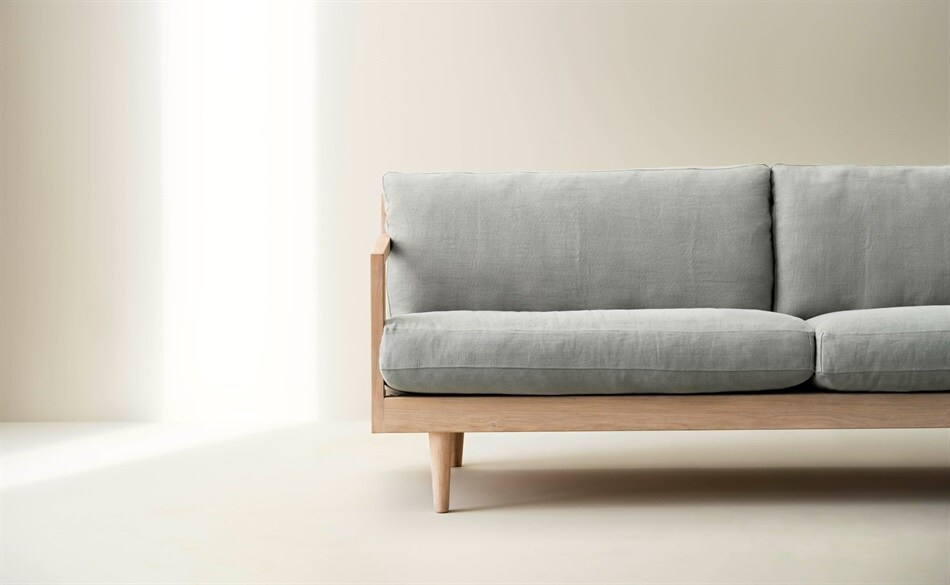 Who really knows what their sofa has inside it? When you buy a sofa from Norrgavel, you can be certain that it's made from natural materials all the way through. But we want you to know exactly what you are getting. The materials we use stand up to scrutiny. All our sofas are gentle on the environment, both in the sense of the planet and in your home. The pure natural materials are also comfortable to live with, while it's reassuring to know that we add no harmful substances, otherwise standard in the furniture industry. Norrgavel provides sustainable, long-lasting craftsmanship with respect for the natural ecocycle built in.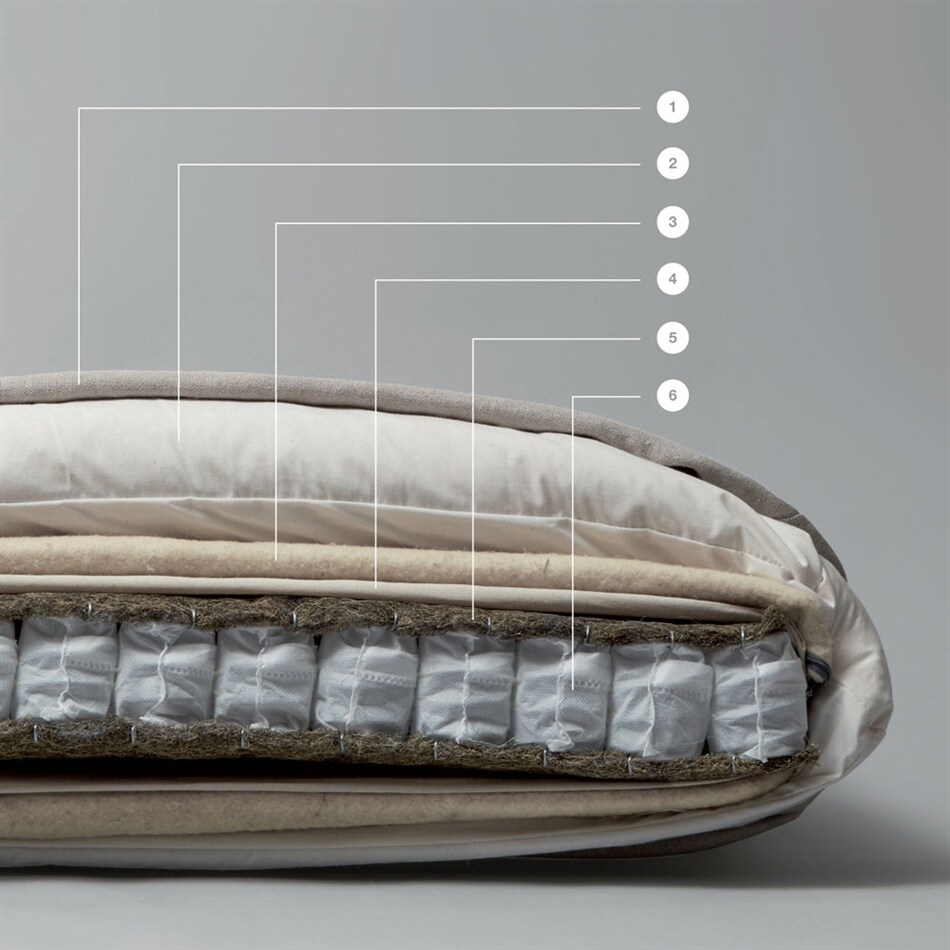 A cross-section of a Norrgavel sofa seat cushion.
Your sofa from the inside out
Our seat cushions contain a number of natural materials, all of which are separated from each other to increase the lifetime of your sofa and make future maintenance and renovation easier.
1. Cover
2. Outer wadding in 30% shredded natural latex (ECO-certified) and 70% seabird feathers. Cover in dense-weave, Oeko-tex-certified cotton calico
3. Protective felted wool cover
4. Cover in Oeko-tex-certified cotton calico
5. Latex and horsehair (horsehair and ECO-certified natural latex from rubber trees)
6. Pocket springs
The centre consists of comfort pocket springs, latex and horsehair, protected by a felted wool cover. The outer wadding is 70% seabird feathers and 30% shredded ECO-certified natural latex. The inner cushion cover is made from Oeko-tex-certified cotton calico. Our sofa frames are made in pine, horsehair and latex, felted wool and Oeko-tex certified cotton calico with Nozag base springs tensioned between two opposite rails.
Sustainable upholstery
Our furniture covers are chosen to stand the test of time and be sustainable for the environment. Most can be removed for easy care and maintenance. Examples of natural materials that Norrgavel uses as much as possible include: wool, linen, cotton, cashmere and eco-friendly tanned leather.
Textiles that last
All our furnishing textiles are labelled so you can tell how resistant they are to rubbing and light. The higher the Martindale rating, the more hardwearing the fabric is, but with the right care, even less hardwearing fabric can last for years. Fading resistance describes how well a fabric retains its colour when exposed to light.
Carefully chosen leather and skin
For environmental reasons, we solely use skins tanned without using chrome. Chrome tanning is a cheaper method but because chrome is an environmental toxin, we make a bit more effort to avoid it. Our aniline leather is tanned without using chrome and our sheepskin, cowhide and reindeer hide is also vegetable tanned. Our sheepskin comes from Swedish sheep farms.
Pure materials
Norrgavel never uses flame retardants, stain repellents or formaldehyde (anti-wrinkle treatment) which are otherwise standard in the furniture industry. We keep our materials pure with respect for our environment and the natural ecocycle – and of course to keep your indoor environment healthy too.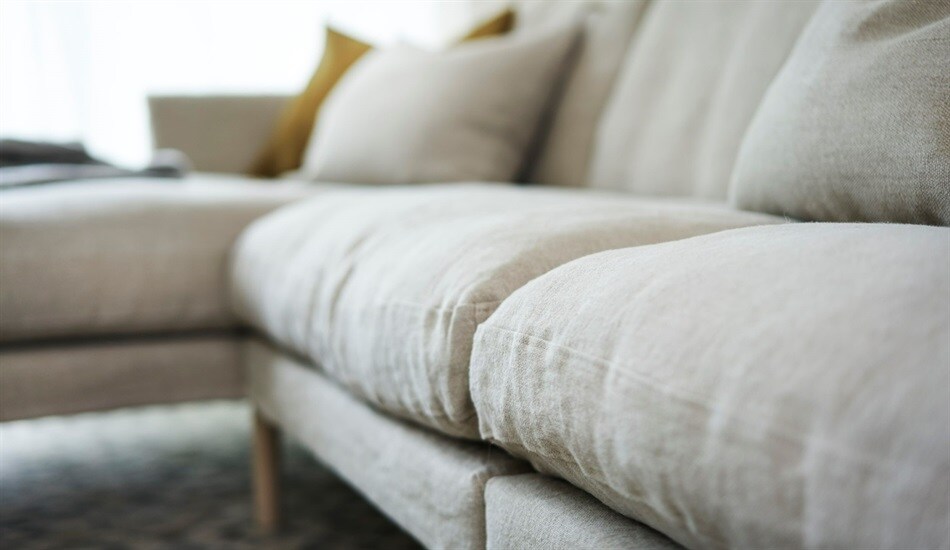 Read more about our furnishing textiles here.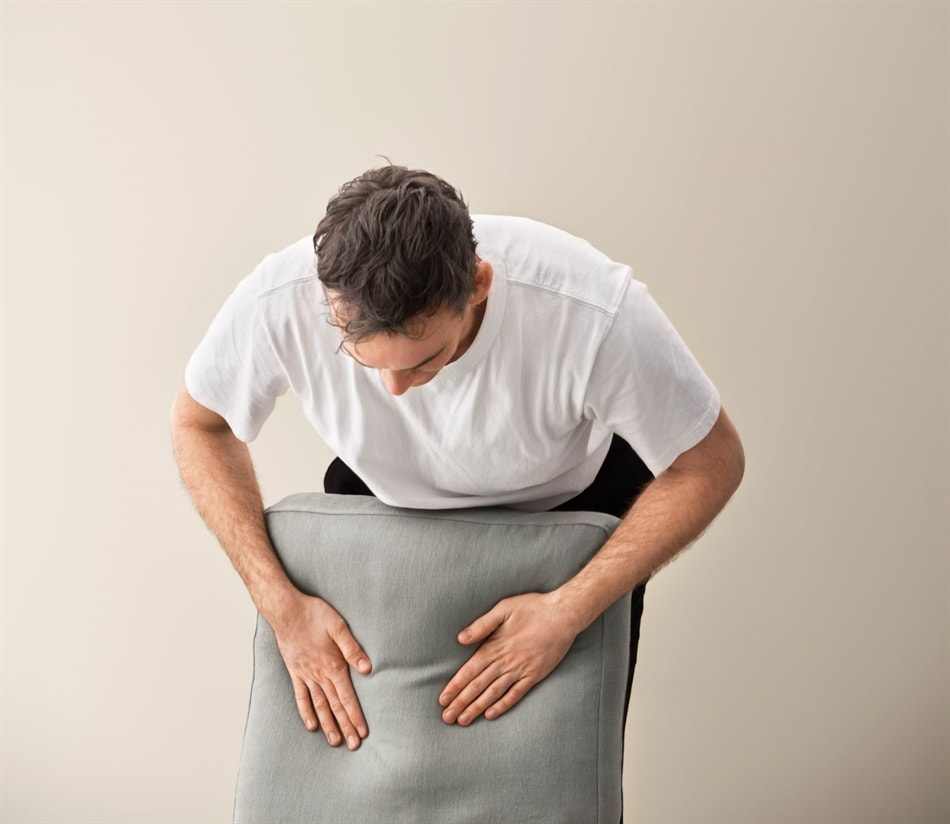 Looking after your sofa
Norrgavel furniture is happiest when it gets a bit of care and attention. Look after it and it will age with dignity and only grow more beautiful over the years. Caring for and maintaining our furniture becomes a kind of manifestation of presence, helping us to live in the moment. A sofa stuffed with natural materials needs a bit of effort on your part to ensure that the cushions retain their shape and comfort, but in return, you will get a sofa that looks like new for many years, unlike a sofa with cold foam cushions, for example.

Get into the habit of plumping up the seat cushions every time you have sat on the sofa so they keep their shape. Your sofa will need a proper plumping session 3–4 times a month, depending on how much you use it. To do this, take the back cushions and seat cushions (open the zip on the loose cover) and hit them all the way through from every side. Don't worry about overdoing it. Think of it as a free gym session! Air the cushions outside (under cover) a couple of times a year and the seabird feathers they contain will regain their elasticity and airiness. All our furniture needs care and maintenance. Read more here.