History
The name Norrgavel came into being at the very beginning of the 1990s. The Richter family had moved into a "street house" in Lund and started a business that would become the company Norrgavel. Nirvan (ex- Erik) Richter was thinking about what his company should be called and during a phone call was advised to choose a name related to the place where the company was located. "What would that be, here there is only a high north gable!" Erik exclaimed and so it had to be, the name was chosen.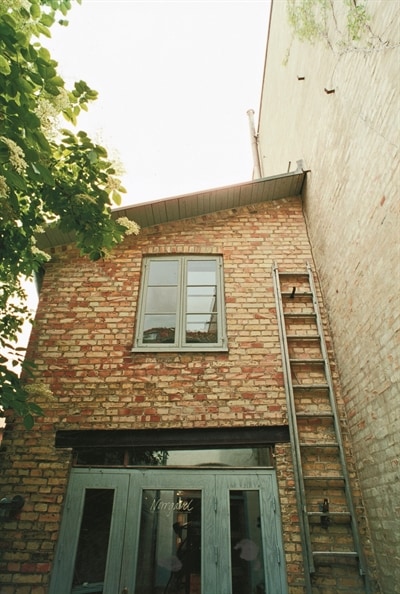 How Norrgavel came into being
Norrgavel was established in 1991 by Nirvan Richter, who had graduated in architecture from the Royal Institute of Technology and trained in cabinet-making at the Carl Malmsten School of Furniture in Stockholm, Sweden.
He developed an early interest in furniture and furniture makers and, as a newly-qualified architect in the 1980s, he soon realised that he wanted to learn more about furniture, the craft of cabinet-making and the art of creating good-quality living spaces. At the time, he saw architecture in Sweden as tightly controlled by modernism and interior design seemed to offer a degree of freedom. It was in the role of architect for the 1988 Carl Malmsten exhibition at the Nordic Museum in Stockholm, Sweden that Nirvan Richter first became more widely known. A number of typical Richter characteristics became apparent at that time: knowledge of the subject, respect for solid craftsmanship, creativity and a slightly rebellious playfulness. His aim was to take Malmsten down from his pedestal and to divest him of the aura surrounding him to make people fully aware of how relevant many of his ideas still were.
Strong personalities, strong movements
Nirvan Richter takes inspiration as a furniture maker from several strong personalities and movements: Ellen Key ("for valueing beauty"), Carl Larsson ("for celebration of the everyday"), Malmsten ("for craftsmanship"), folk traditions, 1920s classicism and early functionalism with its welfare state thinking. An additional strong influence on his work at Norrgavel has been Danish cabinetmaking in the shape of architects and designers such as Kaare Klint, Mogens Koch and Børge Mogensen.
Beyond Scandinavia, Richter's views on the art of furniture making and interiors have also been influenced by the thoughtful, restrained furniture-making tradition of the 19th century American non-conformist Shaker movement, and the Japanese concept of wabi-sabi with its respect for all that is assymetric, unfeigned and natural.
A further important aspect of Richer's thinking was his criticism of the monotony of late functionalism and its lack of holistic understanding. While, in the 1960s and '70s, modernism tore along rather like a streamlined steamroller, alternative grassroots movements came into being and began to question the society of mass consumption in various ways – from flower power to the environmental movement and New Age beliefs. These movements also helped to influence his values.
When put together, what resulted was a completely new view of furniture making, the beginnings of a quiet revolution in Swedish interior design.
The spiritual realm was also to have a profound effect on him as an individual. Nirvan Richter was born Erik Johansson in 1954, but when he was 20, like his siblings, he took the name Richter after his Danish grandmother. Having discovered the power of meditation in the mid-1990s, he wanted to demonstrate his new-found spirituality in a way that made it clear that this was something he took seriously. So, after some correspondence with an Indian meditation centre in 1999, he changed his first name from Erik to Anand Nirvan ("liberation through happiness").
One outcome of this was that he also started to explore his own experiences and emotions in search of inspiration for his work.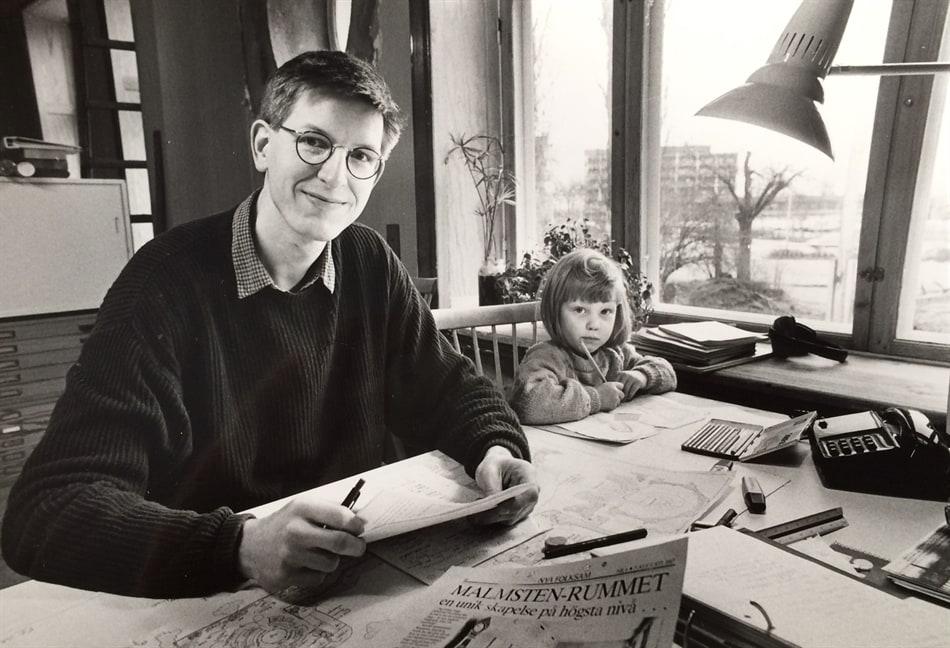 Norrgavel's fundamental principles
In the late 1980s and early '90s, Nirvan was increasingly drawn to the idea of producing furniture, specifically the kind of furniture he felt the market was lacking. High-quality furniture in natural materials that lasted and that could if necessary be repaired or reupholstered and passed on from generation to generation. Furniture whose design was timeless, a long-term, small-scale alternative to large-scale mass production with its rapid turnover.
Functional simplicity thus became an important motto for Norrgavel. Not the sort of simplicity that arises out of necessity, nor an artificial, minimalist simplicity – an uncomplicated, exquisite simplicity manifested in practical and functional furniture. In addition, designs were based on previous knowledge and experience such as that acquired from surveys of living habits and functional studies.
This included rather obvious things such as ensuring that a desk drawer was the right size for an A4 format. That maximum use was made of clothes storage space so as to accommodate, say, folded tops. That there was room underneath low-level shelves for the vacuum cleaner nozzle. That upholstered furniture really could be fully cleaned. The height and sitting angle of chairs. For Norrgavel, the list of the furniture sector's failings was far too long.
Norrgavel furniture would not necessarily turn heads with spectacular designs, but would act as faithful servants over many years. The preference was for an unobtrusive design feature that wasn't noticed until the furniture was used but then became all the more apparent. A chair that really supported the body, a handle whose design helped fingers and hands pull out a drawer. Fundamental to Norrgavel's furniture was the notion that it should not dominate its surroundings but should act as a helpful, functional backdrop.
Environmental thinking
Another important aspect of Norrgavel's approach was care for the environment. It was decided at an early stage that the company would work solely with natural materials, for two reasons.
The first reason was purely environmental. The aim was for the products to form part of the natural ecocycle through use of renewable raw materials only. The second was about experiences and feel. Egg-oil tempera, the organic furniture finish that enhances the light as it shifts and that you can smell when you open a cupboard. The purely physical sensation of running your hand over a soft soap-finished piece of oak or feeling the different qualities of linen. For Norrgavel, natural materials were also an aesthetic choice – they stimulate the senses, can be kept in good condition and generally age beautifully.
Another cornerstone of Norrgavel's thinking was an overall concept of connectivity, i.e., that all the furniture should be able to be combined with other pieces. The lengths of the tables and the width of the sprung mattresses should match the length of the shelving. The height of the mirrors and the depth of the shelving should fit with the dimensions of the bathroom cabinets. The drawer unit should fit under the table. The mirror frames should tie in with the tables. And so on. Everything should belong together.
But just as important was the idea of blending, i.e. being able to mix different woods and finishes and new furniture with used. So Norrgavel furniture needed to come in several different models so that customers could always find a design that would sit happily alongside their existing furniture.
The company is born
The Norrgavel trade mark was registered in January. Apart from Nirvan, the company had one employee – the talented furniture maker Maria Månsson, who was to become a crucial factor in the growth of the young company. The model workshop was in a house in the yard adjoining the Richter family home in Lund, Sweden. That was where the first prototypes saw the light of day, including the Länstol armchair with its high slatted back that has become something of a company emblem.
The company name came about almost by accident in the early 1990s. While Nirvan was wondering what to call his company, it was suggested to him during a telephone conversation that he choose a name connected to the company's location. "What would that be? There's nothing here but a big northern gable (norrgavel)!", he exclaimed, referring to the view of the neighbouring building. And that was it, the company got its name.
Norrgavel goes on show
Norrgavel furniture first went on public display at the Bo93 housing fair in Karlskrona, Sweden. Nirvan Richter furnished an entire apartment with prototype furniture, including many of the pieces today viewed as Norrgavel classics – the slatted-back armchair, the wooden-framed sofa, the coffee table and the first wardrobe. The latter was to be developed ten years later into Norrgavel's storage series of cupboards, display cabinets and wardrobes.
The apartment at Bo93 attracted a great deal of attention from both the public and the media. It was felt that the interior exuded vibrancy along with a homely feeling, an air of friendliness and attention to detail. The overwhelmingly positive response encouraged the company to continue along its path and start to focus seriously.
A growing business
After the fair, the company started its work in earnest. As wood was to be the main ingredient of Norrgavel's furniture, Nirvan and Maria approached a number of joinery firms in Småland province to help them realise the company's ambitions. Right from the start, the company was steeped in environmental thinking, and it was made clear in all discussions with suppliers that production was to be ecologically sound.
Not everyone was able or wanted to meet these requirements, and Maria Månsson, who spent a great deal of time building up a network of suppliers in 1993 and 1994, was sometimes met with somewhat indulgent comments about Norrgavel's way of thinking having been rejected back in the 1950s. The company should fall in line and simplify its production methods to keep prices down.
But the new company was not interested in short-term simplifications or in lowering quality. Its claim, instead, was that – if the life span of the item was taken into consideration – Norrgavel furniture offered greater value for money than that of discount producers. This was a stance that was to pay dividends in the long run.
There was also the challenge of finding suppliers who were accepting of some older techniques involving manual input as part of a production process that was largely mechanical. Another factor when choosing techniques and suppliers was pricing. Low prices were never going to be possible with the company's ambitious aims, but the costs needed to be reasonable if the furniture was to be accessible to a wider circle.
First with the Nordic Swan Ecolabel
Norrgavel can point to evidence from several sources that shows that its environmental thinking is not merely a cosmetic exercise. The company was also the first to acquire the Nordic Swan Ecolabel for its home furniture in 1998, and there is currently a process underway to renew certification for its entire range of furniture. The following year, the company won the Möbelbranschens Miljöpris (the Swedish furniture industry's environment prize), awarded in conjunction with the World Wide Fund for Nature (WWF). Several pieces of Norrgavel furniture were also given design awards by Utmärkt Svensk Form (Excellent Swedish Design), with their environmental credentials being noted by the jury.
More shops appear
To start with, the furniture was sold by mail order, but in autumn 1994 Norrgavel opened its first shop on Kungsgatan in Stockholm. That enabled the company to reach out to a wider customer base, and the range was extended to include the BAS series Stol (Chair) and Bord (Table).
Once the Stockholm shop was up and running, the company established its own production facility for finishing and assembly in Lammhult.
Over the coming years, more and more shops opened. in 1995, a shop was opened in Lammhult. In 1997, Norrgavel started its first franchise in Gothenburg; one opened in Malmö the following year, and now the shops in Lammhult and Stockholm are also franchises. Further shops opened in 2008 (Västerås), November 2009 (Oslo) and October 2010 (Uppsala).
Norrgavel moves on
In 2010 and 2011, the company started to work on broadening its range of styles and designs by embracing the positive aspects of modernism. Norrgavel has always admired some aspects of the modernist ideal – its ability to create light and air, its analytical clarity and graphical rigour along with controlled precision, its feeling for contrast and play with colours.
So the company is moving towards its own interpretation of modernism, liberated from the linear thinking that made classical modernism so blinkered. Norrgavel's modernism is an updated version that takes into account nature's ecocycle, according to which everything created must at some point return to where it came from.