Interior design ideas for compact living
Tiny spaces, big ideas. Create a home with room for feelings and personality. Interiors that proudly carry memories and accompany you through life. Get more out of your space with some simple ideas that make a big difference when your living space isn't exactly vast.
Give it time
First of all, think about what you really appreciate and what makes you feel good – go looking for inspiration and put together a mood board. Book yourself in for a free interior design session to brainstorm ideas and find different solutions that work in or could be adapted to your space. Don't be in too much of a hurry. Allow your design to emerge gradually as you work out what you really really want. Borrowed furniture or charity shop finds will work brilliantly while you're saving for your dream piece of furniture or making your mind up. See creating your dream home as an ongoing process. Let it take its time!
Go upwards and sideways
When your floor space is limited, you'll need to make use of the walls. You can never have too much storage in the form of shelves, bags and hooks if you're living in a small space. Shelve from floor to ceiling, or use easily ignored spaces such as the wall above the top of the door, behind the door or above the bed.
Soften the look with textiles
Cushions and blankets in natural materials make a room inviting and can easily be moved from the bed to the sofa depending on how the furniture is used. A beautiful throw is also an easy way to make your sofa or armchair look "new" rather than investing in new covers while waiting for your dream piece of furniture to move in. A throw on the bed makes the room look neat and arranged, an extra important element in compact living where you might not have a separate bedroom. Rugs in natural materials are practical and attractive. They are also good for defining zones and creating spaces within the space.
Fit curtain rails close to the ceiling or as far up as possible, and running as far on either side of the window as you can. This will make your windows look taller and wider, and let in the maximum amount of light, making your room feel bigger. Curtains in tactile natural materials like wool or linen soften the feel of the room and will stand the test of time.
Dynamic & nomadic
With not much space to play with, it makes sense for your furniture to have general uses, and a simple design. This opens the door to a more dynamic and nomadic approach to your home. A footstool can work as a bedside table or as hall furniture, or even as an extra seat at the table. A coffee table can be moved easily and turned into a breakfast table alongside the bed. And a sofa becomes a comfortable bed for overnight guests. Or add lots of cushions and turn your bed into a sofa. Choose a dining table with an extra leaf so it can grow when you have more guests for dinner.
Lighting & reflection
Lighting makes a room feel more inviting and combining it with mirrors that reflect the light back into the room makes the space instantly feel bigger. Consider having your lamps at different heights, making the interplay of light and shadow more interesting. Don't be scared of overdoing it – a room can need up to ten light sources to achieve functional and comfortable lighting.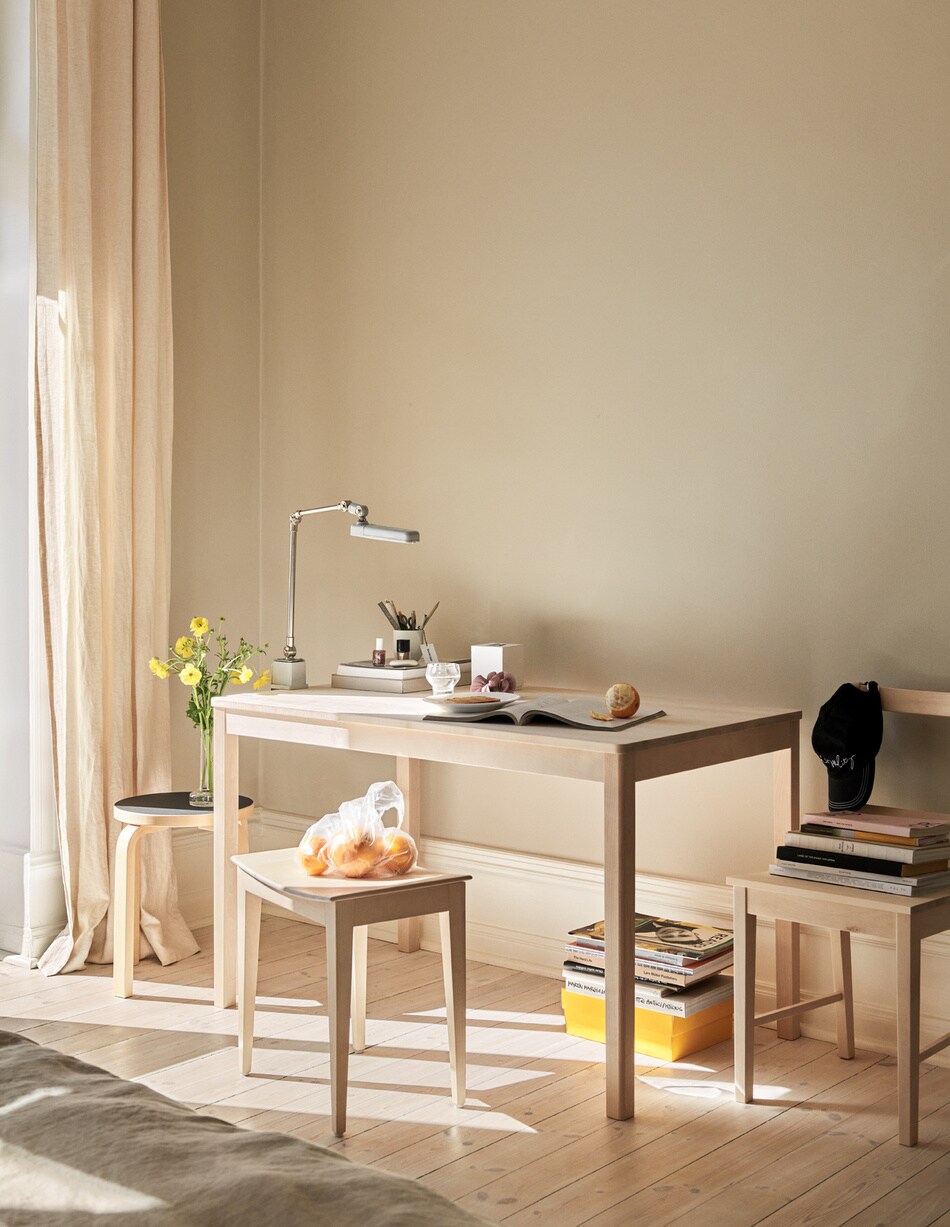 Consistent colour scheme & sheer delight in colour
A consistent, neutral colour scheme in the room, running through furniture and walls, creates a sense of harmony in a small space. Painting the walls in light colours will make the room look bigger too. A room painted with paint that consists of natural pigments and binders feels different compared with a room painted using plastic binders and synthetic paints. The natural materials set the tone and produce a softer feel. Read ourguide on how to paint with egg oil tempera.
"A room painted with paint that consists of natural pigments and binders feels different from a room painted using plastic binders and synthetic paints. The natural materials give you a sense of closeness to life and the planet."
Quote from the book Jordens färg (Colours of the Earth) by Milis Ivarsson and Frida Hafvenstein.
Facts about egg oil tempera
Tempera means blend and egg oil tempera is both a blend of ingredients and a blend of different characteristics. Egg oil tempera is an emulsion of linseed oil and water, created with the help of the emulsifying egg. Egg has a unique capacity to bind to both water and oil. The water acts as a solvent, enabling the mixture to be used as paint, while the egg and the oil are the binders. It only becomes a paint when the pigment is added.